Residents of Superior, the long awaited sewer project is beginning. This improvement project will take place at Fisher and Clough Avenues and the timeline is expected to be approximately 2.5 months. The main goal of this enhancement is to help the residence affected with water damage to their basements caused by flooding. The City is ensuring that these inclement weather complications are being rectified by upgrading the existing sewer system. The current capacity of the combined sewer has proven inadequate when intense rains occur. Workers on this project will be installing approximately 700 feet of pipeline on both Clough and Fisher Ave. These new lines will then connect to the existing 4 ft. pipeline on Lincoln St. The separate sewer is expected to remedy the issues of capacity and prevent overflows to your basement. Please be advised that during construction, these particular streets may be met with detours.
Perma-Liner Industries has got you covered! Since 1999, we've specialized in trenchless pipeline repair and rehabilitation and we are here to help. We are pleased to offer you our best products. Call us or go online to www.perma-liner.com to find out more.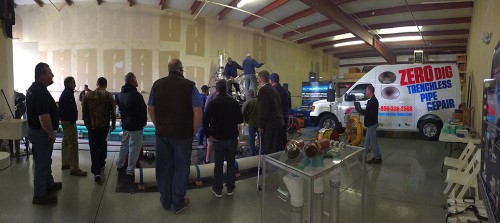 Milwaukee, SAVE THE DATE!!
Mark your calendars because you won't want to miss this! On September 15th-17th Perma-Liner Industries is hosting a very special event and we'd love to see you!! We're having our Open House at our facility in Clearwater, FL. and it's sure to be a great time. We'll have our excellent staff here to answer all of your questions about Cured-in-Place Pipeline products and our state of the art trenchless technology. Come out and see live demonstrations, share friendly conversations and gain information. Meals will be provided!  Please register at no cost: info@perma-liner.com or 1-866-336-2568. Click Here to Register!